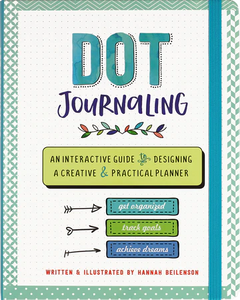 Dot Journaling
Regular price $14.99 Sale
Learn to dot journal! Author and avid dot journaler Hannah Beilenson makes it easy and accessible. This beginner's guide allows you to discover:
The benefits of dot journaling.

Tools and materials you might find helpful.

Planning styles and techniques.

Ideas for yearly, monthly, weekly, and daily plans.

Ideas for trackers, lists, and more!

Get creative with washi tape, lettering, and stencils.

This unique interactive book even provides practice outlines and practice space so you can be inspired to try some of the bullet journaling ideas yourself!

Full color throughout.

Sturdy hardcover book lies flat so you can practice dot journaling techniques easily within its pages.

Book measures 7-1/2'' wide x 9-1/2'' high.

160 pages.