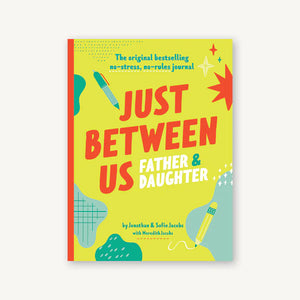 Just Between Us: Father & Daughter
Regular price $16.95 Sale
A bestselling gift book that has touched the lives of thousands of women and girls, Just Between Us: Mother & Daughter features advice and perspectives from both generations, two lovely ribbon bookmarks (one each for mother and daughter), and appealing illustrations in a deluxe hardcover journal that is a treasure to give or receive.

Whether you have a great or "could be better" relationship with your mother or daughter, communication and bonding can be hard. This journal can change that.
 
Have you ever wondered . . .
What your mom thought the moment you were born?

Where your daughter would go if she could go anywhere in the universe?
Thoughtful writing prompts like these and entertaining mini quizzes pave the way to discussing everything from friends and school to crushes and growing up. Just Between Us provides plenty of free space for writing about whatever comes to mind, plus pages for drawing and making lists, ensuring this mom and me journal stays refreshingly open-ended.
 
We recommend this shared journal for daughters aged ten years old and up. Some reviewers say they love using it with their adult daughters! It's great for stepmom and daughter as well.