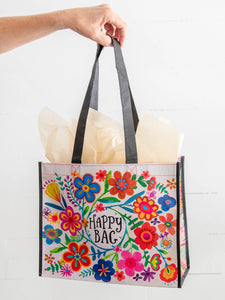 Large Happy Bag Cream Floral
Why use a boring gift bag when you can make your gift exceptional with a Happy Bag?
The giving can keep going because it's thoughtfully made from recycled water bottles, and they last forever!
The large size can hold just about any clothing item, with lots of room to spare! Bag up your books for a library run or fill one with toddler toys to keep in your backseat. Wrap up a hostess gift when you go to a friend's house for dinner. Three Happy Bags are included in this large set.
(Each bag is 12.5" L x 5" W x 10.25" H.)
Take the frustration out of gift-giving and keep an assortment of Happy Bags on hand.