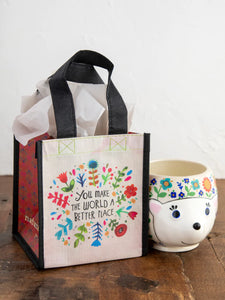 Small Happy Bag World Better
Why use a boring gift bag when you can make your gift exceptional with a Happy Bag?
The giving can keep going because it's thoughtfully made from recycled water bottles, and they last forever!
They're the classic gift bag size! Why not bag up a fresh batch of cookies for your neighbor? Fill it with candy to brighten someone's day! After friends and family gather, send leftovers home in these indispensable bags!
Take the frustration out of gift-giving and keep an assortment of Happy Bags on hand.
Dimensions:
5.5in L x 5in W x 6in H, 4 in handle drop