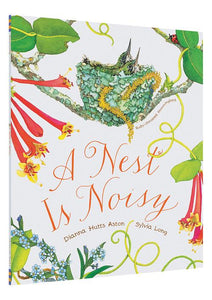 A Nest Is Noisy Paperback Book
"Fans will rejoice at the first sight of A Nest Is Noisy," promises School Library Journal, and they're right.
From the award-winning creators of An Egg Is Quiet, A Seed Is Sleepy, A Butterfly Is Patient, A Rock Is Lively, and A Beetle Is Shy comes this gorgeous and informative look at the fascinating world of nests, from those of tiny bee hummingbirds to those of orangutans high in the rainforest canopy. Poetic in voice and elegant in design, this carefully researched book introduces children to a captivating array of nest facts and will spark the imaginations of children whether in a classroom reading circle or on a parent's lap.